This has got to be my favorite link up so far!
I am going to try my first Eff, Marry, Kill with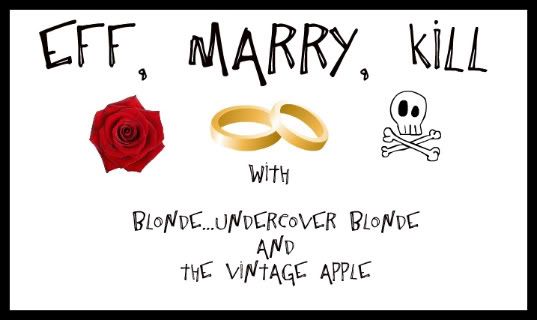 I decided to give myself a real challenge
and I am even a little disgusted at myself for what I am about to type...
but here goes!
EMK
SEINFELD EDITION
Eff: Kramer
Marry: Jerry
Kill: George
EFF
:
Kramer
: I know, I know !!!! You are thinking I obviously need help, but it's not like these were easy choices! I can't choose George - he eats sandwiches in bed & I have a big issue with crumbs in my sheets. So the obvious choice was Kramer - it's just one night, right?
Marry
:
Jerry
: Yes he can be annoying.....Yes he isn't my type.....Yes he has bad hair, but I could never have baby Kramers and George killed his fiance with poisonous wedding invitation envelopes so obviously he's out !
Kill
:
George
: Sorry George but I'd have to take you out. You have nothing to offer, you make me sick to look at and you still live with your parents......you must go!
I'd love to hear your choices but I totally understand if you are too embarrassed to admit your answers :)